Elm City Crossfit WoD for June 24th, 2011
Nicole makes the overhead squat look easy. I hate her here a little bit. I do NOT smile at the bottom of the OHS. Unless its a rictus of agony. (crossfit.com)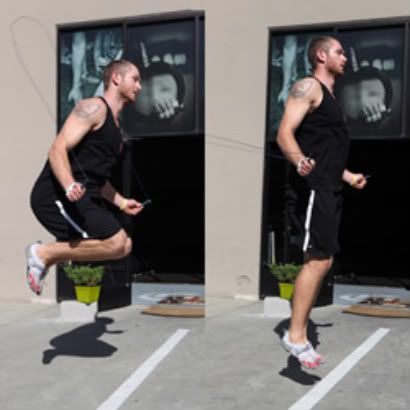 Double-unders. Bad technique (too much work) on the left, good technique (little work) on the right. It should really just feel like slightly more energetic single bounces, not huge jumps. (crossfitsouthcobb.com)
---
Workout
: Five 90 second rounds, 90 seconds rest:
AMRAP
1 Snatch 65# NO DROP
7 Overhead Squats
10 Double-Unders (or 30 singles)
So, the idea was to crank through the three exercises as fast as possible, as many times as possible during the 90 second rounds, and pick up where we left off after the 90 second rest (ie, 7 double unders into a round would pick up on the 8th double-under when the rest was over). I very optimistically warmed up to 95# on the overhead squats, which was easy enough to power snatch. I banged out a couple of squat reps, and figured that would be fine.
After the clock started, I easily snatched the bar up, did three squat reps, and after struggling with the bar for a few seconds, had to drop it to the floor. This wasn't good. Two more hang power snatches, two more sets of two overhead squats, and I was finally ready to hit double-unders. Since it'd been awhile, I opted to go for the singles, just to get warmed-up. I got in one more power snatch before time ran out on the first round. I quickly reduced weight to 65#, but the fatigue (and injury?) had already been done.
From the second round on, I struggled to keep the bar in a good overhead position, failing forward whenever I lost control of the bar. I also quickly noticed a familiar numbness in my left thumb and forearm, which had spread to the left bicep and cropped up a bit in my right thumb and wrist by the end of the workout (first time I felt it was at my Level 1 certification, working on (surprise!) the overhead squat). The last few rounds of jump-rope were difficult, since I couldn't really feel the handles of the rope all that well, making it hard to whip it as powerfully as I needed for double-unders... OR single bounces! I tried to alternate which I was going to do each round, since I want to get the double-under work in, but not so badly that it tanked the WoD!
Rounds: 6 + 10 single bounces