Warmup:
Dynamic Warmup (including Jumps)
Burgener Warm-Up x2
Benchmark!: "Helen"
3 rounds for time of:
Run 400 meters
21 KB Swings - 55# Dumbbell
12 Pullups (band assist)
---
Hell-In. Note the bars just waiting for those gentlemen to come by and see them AFTER they've run 2800m, done 126 kettle-bell swings, and 72 pull-ups. Much as I fantasize about competing in the games one day, the mere thought of this workout is enough to bring a visit from Pukie the Clown. (games.crossfit.com)
Kristin Clever and Annie Thorisdottir go head to head on the kettlebells. (games.crossfit.com)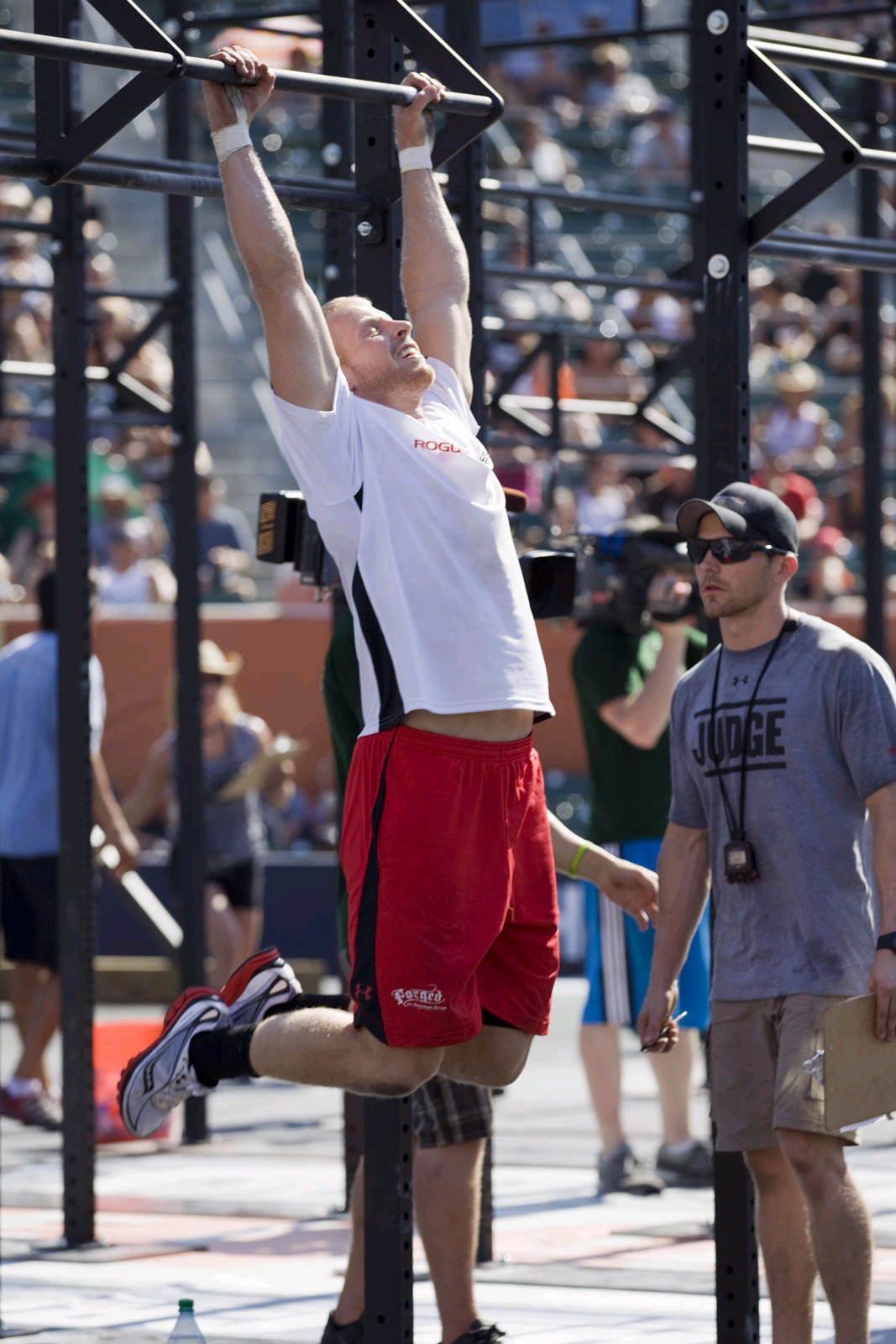 Graham Holmberg (2010 Games Male Champion) cranks out pull-ups. I don't *think* this is actually from Hell-In, since he seems to be back in the main stadium, but it still works. He's way better at pull-ups than I am. For Real. (games.crossfit.com)
---
Don't do benchmarks when you're tired, in the middle of a head-cold, and poorly fueled. This wasn't a workout, and I don't expect to see any physical changes as a result of plowing through it. If anything, it was a mental victory, just for pushing through it, but overall, I should have taken today as a rest day. I felt like crap and paid for it.
That said, I did actually PR on it, but considering I last did it a year ago, when I was not nearly as fit, and in the middle of my full on knee agony, its not really *that* much of an accomplishment. I knocked a minute off, but if I was feeling better, I'm sure I could have carved off 5-6 minutes. Not that impressive on a crappy time, but still an improvement. As it is, I've left a time for me to destroy the NEXT time Helen comes up.
Total Time: 17m (PR by 1:00)
By way of comparison, check out the videos from the CrossFit 2010 Games, wherein "Helen" was converted into "Hell-in." The first round involved running triple the distance (1200m), triple the swings (63) and triple the pull-ups (36). The second round was double everything (800m, 42 swings, 24 pull-ups) and the third round was back to the original distance/rep scheme (400m, 21 swings, 12 pull-ups). Basically, a double-"Helen." After that, the competitors had 90 seconds (I believe) to put as heavy a weight as possible overhead. Always fun in a state of utter exhaustion!